Old North Church (officially, Christ Church in the City of Boston), at 193 Salem Street, in the North End of Boston, is the location from which the famous "One if by land, and two if by sea" signal is said to have been sent. This phrase is related to Paul Revere's midnight ride, of April 18, 1775, which preceded the Battles of Lexington and Concord during the American Revolution.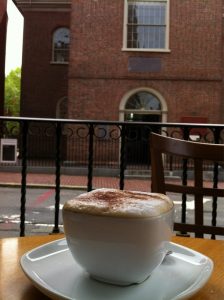 The church is a mission of the Episcopal Diocese of Massachusetts. It is the oldest standing church building in Boston and is a National Historic Landmark. Inside the church is a bust of George Washington, which the Marquis de Lafayette reportedly remarked was the best likeness of the first president he had ever seen.
The enduring fame of the Old North began on the evening of April 18, 1775, when the church sexton, Robert Newman, and Vestryman Capt. John Pulling, Jr. climbed the steeple and held high two lanterns as a signal from Paul Revere that the British were marching to Lexington and Concord by sea across the Charles River and not by land. This fateful event ignited the American Revolution.
Built in 1723, Christ Church in the City of Boston, known to all as the Old North Church, is Boston's oldest surviving church building and most visited historical site. In 1775, on the eve of Revolution, the majority of the congregation were loyal to the British King and many held official positions in the royal government, including the Royal Governor of Massachusetts, making Robert Newman's loyalty to the Patriot cause even more extraordinary. The King gave the Old North its silver that was used at services and a bible.
Each year, a half a million visitors make the trip to Boston to experience this unique and stirring monument to liberty.
193 Salem St, Boston, MA 02113
www.oldnorth.com