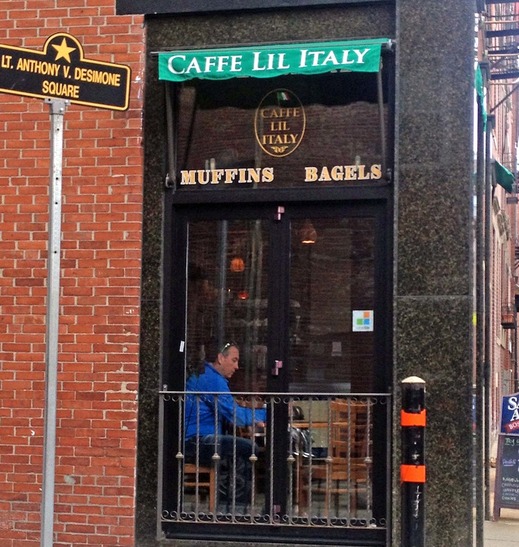 Romanian immigrant, after years of hard work, opens popular North End coffee shop
When Dana Preda first came to the United States, she knew not one word of English. Thirteen years later, she owns one the most popular new Italian coffee shops in the North End, Caffe' Lil Italy.
Despite the success of her coffee shop, many are surprised to know that Preda still works six days a week at Antico Forno, the restaurant she began working at years ago in hopes of opening her own shop one day.
She said she is saving money to help her 17-year-old daughter, whom Preda sees only once a year, emigrate to the U.S. from Romania.
After following her husband to the United States 13 years ago Preda started busing tables Antico Forno.
'I worked around the clock. I cleaned, washed the ceiling and floors and didn't make it home till the early morning hours,' said Preda. 'I always knew I wanted to start my own business, but without knowing the language and not having enough money saved, I knew I had to continue working.'
Once Preda started learning English she was able to start waitressing. She worked double shifts seven days a week for 10 years before she was able to save her earnings to open Caff' Lil Italy.
Preda said she wanted to open the coffee shop so she would have enough money for her daughter to come live and go to school in the United States after high school. She also wanted to use her creative ideas to make the best menu possible for her shop.
'I wanted people to walk in and feel comfortable,' she said. 'I also wanted to provide a variety of the best baked goods you can find in the North End.'
Preda did just that. The menu includes classic Italian pastries, gelato, and a neighborhood favorite: homemade waffle sundaes.
Located on Salem Street directly across from the Old North Church, Caff' Lil Italy is now a hot spot for tourists and locals.
'This place is busy round the clock,' said North End resident Ralph Piccolo. 'I come here because the service is fantastic and I know how hard Dana has worked to open up this place. She has done a fantastic job.'
Marlee Santoro, who works at Antico Forno, said Preda is the hardest worker she has ever known.
'I'll come into work at 10 a.m. at the start of my shift and Dana will already be hard at work. During the Nemo snowstorm, she was outside shoveling snow in front of our restaurant by herself right after she came from shoveling out her coffee shop,' said Santoro. 'You will never find another person that works as hard as she does.'
Preda credits her many years in the restaurant business to being able to run a successful shop in one of Boston's busiest neighborhoods.
'I value all my customers, especially the ones who have been so supportive to me ever since I came to America thirteen years ago,' she said. 'I love owning a coffee shop that people say is successful, but I could not have done it without the support of this neighborhood, they have been so kind to me.'
Preda says she plans to expand Caff' Lil Italy and start selling a full lunch menu before the summer begins ' and she wants to provide more seating since the popularity of the shop has grown so quickly.
This article is being published under an arrangement between the Boston Globe and Emerson College.
Save
Save